Shopping Cart
Your Cart is Empty
There was an error with PayPal
Click here to try again
Thank you for your business!
You should be receiving an order confirmation from Paypal shortly.
Exit Shopping Cart
I often ask myself questions about strange things. You know things like "why is the sky blue?" and so forth (drives my wife and kids crazy). One question I had years ago is why are kitchen wall cabinets typically 12" deep? After all is this the most practical size for wall storage? Those of you who have large dinner plates are replying "Heck, no!"
The answer lies in how the whole idea of built in kitchen cabinets evolved and the short answer is that back in the day when carpenters and trim carpenters built cabinets on site rather than in a shop or factory they used 1 x 12 pine boards for the ends and shelves. And if you have ever bought dimensional lumber at the lumber yard you know that the "nominal" (technical term for "actual") size is 11-1/4" (3/4" lost in planing the lumber smooth and straight). These were attached to the wall with cleats and then a 1 x 2 (3/4" X 1-1/2" nominal) frame was nailed to the faces and voila! you got 12". Now 12" works fine but it wasn't because the carpenter actually engineered it that way, it was just easier to use the board in the size it was already cut to than to add to it or have to rip it down with a hand saw. Chalk it up to efficiency and practicality for the carpenter (that's the PC way of saying "lazy"). 
Base cabinets ended up about 24" deep for the same reason. They would use two 1 x 12 boards cleated together and add the 3/4" face frame  and ended up with 23-1/4" deep. When plywood became readily available they then started cutting them to 23-1/4", added the 3/4" face frame and got 24". 
Factory cabinets today are a standard 12" deep and the interior useable depth varies from 10-1/2" to 11-1/4" depending on the construction. I have done many jobs where, at the owner's request, we built the wall cabinets 13" deep to accommodate large plates and I recently did a kitchen where we made them all at 15" deep at the owner's request. Many factory cabinets offer the option of increasing the depth for an additional charge. 
As an aside, if you have old job built cabinets like this, they may be made of clear old growth sugar pine or 'D' select pine or Douglas fir and are valuable pieces of wood. I have salvaged many beautiful boards through the years from old kitchens. Usually the boards were painted and had to be planed to get to the raw wood but it was worth it. Many of our early furniture in our home when I was a poor cabinetmaking apprentice were built from these boards. 
This leads to other dimensional questions. Here's a few for those of you who just have to know:
Why are wall cabinets typically 18" above the counter? Because that's the way it has always been done, dingo! In truth I have no good answer other than "because it works." The only people I have seen complain about it are short people. But there is no hard-and-fast rule here. If you want them lower that can be accommodated either by lowering them or ordering longer wall cabinets. In some cases I have done jobs where we made the space taller in order to accommodate larger appliances like the old Kitchenaid mixers which wouldn't fit in the 18" space.
Why are base cabinets typically 36" high including the countertop? See the answer above. It's always been done that way and overall, except for short people, it works fine. 
I can see the carpenters standing in the kitchen and the carpenter's helper says, "So, boss, how high should we make these cabinets?" 
Pointing to his belt the lead carpenter Joe replies, "I don't know, Bill. About this high I suppose." 
"How about we ask Mrs. Smith, the owner?" 
"Don't complicate things, Bill. Asking the home owner questions like that just makes our lives difficult. About 3 foot works fine, my wife is perfectly happy with that and I'm sure Mrs. Smith will be happy, too." And so here we are today... :)
Note that the appliance industry makes ranges and dishwashers based on 36" thanks to Joe's expertise. If you want your cabinets shorter consider doing one main work section rather than the whole kitchen to avoid problems with the appliances. If you want them taller again I recommend making one work area taller, not the whole kitchen because, while it will work for taller people, it can be a problem if you want to sell your home. 
Is there an advantage to base cabinets deeper than 24"? This can be very nice when you want a bigger work area but in most cases 24" works fine for most people. As to storage I have found 24" deep is plenty deep and making the interior deeper is impractical for storage access. 
Why are bathroom vanities 30" high? The only reason I can come up with is this goes back to the day when homes had only one bathroom and it had to accommodate the children (either that or plumbers were all short and installed the sinks lower to suit themselves!). Of course, there is only about a two year period when 30" high is the right height for kids, the rest of the time they either use a stool or bend over like the rest of us. For years we have made our vanities to the same height as the kitchen at no additional charge and most factory lines offer 34-1/2" high vanities as a standard option. 
Why are bathroom vanities 21" deep instead of 24" like the kitchen cabinets? Again, because that's the way it has always been done! There is also the issue of many bathroom doors are 2'0" and you can't get the cabinet in the room. However, if you can use a 24" deep cabinet it will give you a decent amount of space behind the faucet so you don't need a toothbrush to clean back there. So, consider using kitchen cabinets in your bathroom if they will fit. Your back and your housekeeper will love you for it!
Why are factory cabinets built in 3" wide increments?
This is a matter of efficiency and best use of materials and inventory. By maintaining this standard, which works in most cases (except for those dang big fillers that waste space!), they can produce the cabinets quickly and keep their costs down. Many "semi-custom" cabinet lines today, though, offer "odd" dimensions less than the 3" for additional cost (although some are now not charging extra -
Showplace Cabinets
for one - you just order the next largest size and specify the desired width). With our own custom cabinets we build them to any size needed since we are not working from stock parts. 
I probably have missed a dimensional question here so please feel free to comment or email me and I will add it to the blog. 
I recently had someone contact me with questions about painted cabinets. I have copied over my response to them below and I hope it is useful to others. A little background first, though. 
Painted solid color cabinetry is very popular now. To get a solid color you can either use paint or tinted varnish. What's the difference? In simple terms, any solid color finish is a combination of pigment (color) and solids content (which is the "armor" that protects the color and gives it a sheen). Industrial grade paint is composed of pigment and a high solids content and generally 2 coats are sprayed on with no need for a primer (it is "self-priming). Tinted varnish is mostly all pigment with a low solids content. It requires a solid color primer to seal the surface, then the tinted varnish is sprayed over that and finally 2 to 3 coats of clear varnish are sprayed over that. So, it is less labor intensive to use paint and therefore less expensive. However, the tinted varnish process is much more durable and 2-3 times as thick as a painted finish. You can compare it to the "clear-coat" finish that car companies use nowadays. At The Cabinet Guy LLC we use tinted varnishes which we can make in any color that you can get with paint. 
Paint or tinted varnish can be applied over any cabinet surface. Most manufacturers use hard maple but some use poplar or other "paint-grade" woods. Then there are others who use MDF - medium density fiberboard (in most cases that is what we use for our clients for solid color finishes). 
The question that was posed to me was "Is MDF a good product for cabinet doors compared to wood for a solid color finish?" Here is my response:
"To me using MDF instead of wood for a paint surface can be compared to using metal or wood for your car fenders. Wood would be more expensive than metal in that case but it wouldn't be a better product for the application. When people say that MDF is "cheap" it would be like saying that metal is cheap when compared to wood for fenders just because it is less expensive. But less expensive in cost does not necessarily mean cheap in quality. You would be disappointed in how the wood reacts in a car accident compared to the metal and, likewise, people are often disappointed by how painted wood cabinets perform over time. 
MDF is 50 pound density compared to about 20 pounds for hard maple and 15 pounds for poplar. That means the impact resistance of MDF to the rigors of daily use is much better than wood. Also, in my experience, a door made with MDF will last as long as a wood one and perform just as well. MDF does not shrink and swell with changes in humidity so the likelihood of cracks appearing at the joints is much less (which is very, very likely for wood). MDF is admittedly less expensive, about $1 per square foot for the raw material versus about $3 for hard maple. However, because it is a superior product for this specific application I would never call it cheap. 
It is true that once a varnish is applied over paint it would be more difficult to repaint but the varnish adds years to the durability because it acts like a coat of armor (just like it does over a stain) and you shouldn't need to repaint for a long time. However, if you buy unvarnished painted cabinets you will find that the results of painting over them aren't any better and you would need to repaint them much sooner. The aim is to get a product that holds up so you don't have to repaint. That being said, you will find it difficult to get a varnished solid color finish from most manufacturers since it is too expensive a process for most of them. If you want a varnished paint look you will probably need to find a cabinetmaker who knows how to spray tinted varnish (not paint) and overcoats them with varnish like we do in our shop. 
As to your question about the sheen level and how it relates to quality. Low sheen does not mean less paint or that it is a cheaper product. All finishes come in a variety of sheen levels. Sheen is measured as a percent of light reflectivity compared to a mirror. Low sheens have more pores so they capture more light rather than reflecting it. Dull or flat = 10-15% sheen, satin = 40-50%, semi-gloss = 60-70% and high-gloss = 80-90%. All sheen levels perform pretty much equally. It is simply a matter of aesthetics although high gloss paints tend to clean up easier because they are smoother since they have less pores for dirt to catch in. 
I hope all of this proves helpful. In closing, let me say that six months from now when you are enjoying your new kitchen all of the headaches will be a dim memory so keep your eye on the goal, not the task. :)
We do a lot of repair of the finish on cabinet doors in our shop for our clients. Very often people complain that the finish seems to have disappeared in places on the false drawer front and doors under the sink while not having done so elsewhere (except above the stove which I will deal with in another blog). There are places on these doors where the finish is worn, dull and/or blistered. What causes this? Most often it is due to water that has spilled on the door or transferred from our wet hands when we open the doors.
This exposes a consistent weakness in the finishing process of many manufacturers. While most companies use very high quality varnishes or lacquers the problem is they do not apply a thick enough coat to protect the wood. In most cases, the manufacturer's spray on only two coats which results in a minimal buildup of only 3 mils whereas 5-6 mils is recommended and can only be achieved with 3 or more coats of varnish or lacquer. So, there is not enough finish on the door especially on the end grain and at the joints between the frame and panel of the wood.
In the case of the end grain, which is the grain at the top of the door (see picture below), the open pores of the wood are not filled with enough finish to keep water from getting inside the wood. Once the water enters the unfinished wood below the surface evaporation causes it to condense under the finish (much like water collects on a skylight or greenhouse roof) and then blisters the finish exposing the now-raw surface wood to more damage.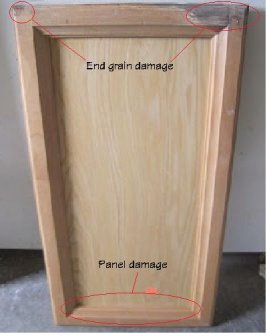 Likewise, water tends to collect where the center panel meets the frame at the bottom of the door (see picture below) and is drawn by capillary action into the groove of the frame where it then is absorbed by the raw wood panel and causes the same damage as the end grain situation.  
Solutions:
1) Pay particular care to avoid getting these parts wet and if they do get wet dry them off immediately.
2) If your cabinets are new and you don't see any damage yet you can either use paste wax or spray lacquer or varnish to add the coats that the factory failed to put on there.
     a. Wax is the simplest but needs to be re-done every 6 months or more depending on how hard you are on your          cabinets. Be sure to use paste wax (Johnson's floor wax, Minwax, Trewax, etc), not liquid wax, lemon oils or          sprays like Pledge. Paste wax is the most durable of the easy to apply protectors.
     b. Spray varnishes or lacquer are more durable and long lasting but require more work. If you choose to do this            you must do it outside in an open area for safety and follow the finish manufacturer's directions. Before                  spraying the whole door test a small area on the back of the door to be sure the finish will adhere to the old f          finish. Apply 2 or 3 coats with special attention to the end grain and the joints where the panel meets the                frame. Sand between coats with 320 or 400 grit wet (black) sandpaper. If you are spraying the false drawer              front be sure to coat the back which is usually left unfinished by many manufacturers.
3) If your cabinets are old and damaged you will need to use a spray finish as in 2b to restore the finish (paste wax will not do the job in this case). In this case, first wash the door using an extra fine 3M pad and mineral spirits (paint thinner) to remove any traces of food residue, grease, etc. Allow the door to dry completely and then lightly sand the whole door with the 320 or 400 grit paper. If the door is discolored you can attempt to apply some stain to the raw spots but you are better off doing this after you spray one coat of finish on the door. (Usually the stain will not penetrate into the wood fibers due to presence of some finish in the pores). Use a fast drying stain such as Rustoleum Ultimate Wood Stain (which takes about an hour). If you use a stain like the typical Minwax oil base stains you will need to allow it to dry for about 24 hours before spraying on any additional coats of finish. Brush the stain on with a small brush and blend it into the surrounding area. About a week after applying a spray finish (to allow for curing) you can then use the paste wax as noted in 2A above.
4) Or, you can have us do this for you at our shop.
As always, if I can help you with this or other cabinet problems do not hesitate to email me. 
Good Kitchen Design
Having designed thousands of kitchens in my 37 years in this business I have seen a lot of good and bad designs. Many times when I go to a client's home and I see their existing kitchen I often wonder what the designer was smoking when they designed the kitchen. Too often I see designs that are totally impractical functionally. And very often the designer seemed more concerned with putting a lot of fancy frills that may have worked fine in a living room but made no sense in a kitchen. 
Elements of a good kitchen design
> First and foremost it should be practical and functional - "Form Follows Function" meaning that the designer should make sure the layout is very practical and only after they have done that should they make it "pretty." Many designs may be stunning but turn out to be difficult to work in and maintain. Two that come immediately to mind are massive, overly ornate range hoods that do a great job of collecting grease on the wood work and poorly designed and positioned islands that just get in the way.
> Plenty of storage space strategically placed where items can be easily reached from the point of first usage
> Adequate counter space at each of the primary work areas
> The kitchen should be designed around the individual work areas which are: 1) clean up area, 2) food preparation area, 3) cooking area, 4) storage area, 5) serving area
> Lots of drawers - 80% of what you store in your kitchen will fit better in a drawer than behind a door
> Plenty of clearance for appliance access (dishwasher, refrigerator, stove)
> Consider the traffic flow in, out and through the kitchen and assure that there will be no "traffic jambs"
> The kitchen should reflect the household makeup. A kitchen designed for a young family with 3 children will be different from one for "empty-nesters" or a single parent with 2 children
The kitchen is a constantly used central point for daily activities and should be a very comfortable environment to work and play in. The designer should listen carefully to what you want and design the kitchen for you leaving their own personal preferences and prejudices aside. (After all you have to live in this kitchen for many years not them). 
If I can help you in anyway with a design question please feel free to contact me, Geoff Dunn, at
[email protected]
 (even if you live somewhere else in the world outside of our trade area and wouldn't be purchasing our products). 
One of the most common complaints about cabinetry through the years, especially in the dryer parts of the country like Colorado, is that the panels in the doors shrink and a white line shows up down the sides of the panel. Why is this? Raised panel doors are made of a wood frame and a separate center panel. This center panel is not glued in place and "floats" in the frame. This is done to allow the wood to shrink and swell with changes in humidity. If it was glued or held in place by pins or brads it would create havoc with the frame when it expanded or contracted and contort the door so that it wouldn't open and close correctly.
When a door is stained after it is assembled the stain does not get all the way back into the edge of the panel concealed behind the groove in the frame. Thus, when the door panel shrinks you see the unstained area which looks white compared to the stained parts around it. This is most likely on doors that were finished during a time of high humidity or the door had a higher moisture content.
Note that this happens on panels made of solid wood. Doors made with veneered panels don't typically have this problem because the core material of the panel is more stable and not affected by humidity.
Manufacturers who make cabinets doors with solid wood panels have several ways they deal with this. Some companies who stock doors ready for cabinets will store them in warehouses maintained at a specific humidity level. Many who make their doors to order will allow the wood to season and then test the raw wood for its moisture content to assure it is at an optimum level to avoid shrinkage. However, despite their best efforts these measures are not certain to control the issue. Due to the fact that a paneled door is made up of separate pieces it is impossible to completely seal the panel from air infiltration when they apply the finish coats. So, no matter how well prepped the panel is when air gets into the panel it changes the moisture content.
If a door is made in a moist climate, as is prevalent in many parts of the country, and then shipped to a dryer place it will most likely shrink (up to ¼" in some cases!). Once it is in the home it will then shrink and swell with the seasons. Humidity levels are typically lowest in the winter and many times the white lines only show up then and disappear in the summer.
The only sure cure for this is to stain the panel prior to assembly. However, I know of no major manufacturer that does this (at one time Wood Mode did but I don't think they do anymore). It is simply not practical for them and they would have to charge a great deal more to do so because of the many additional steps it requires.
The only companies who can do this practically are small shops that can afford the time to do so. Here at The Cabinet Guy we do stain all panels prior to assembly on the doors that we make so this isn't an issue for us or our customers.
If you do have these white lines you can help conceal them by wiping some stain on the line using a small paint brush or a stain pen (available at home centers and paint stores or from your cabinet supplier). After you have stained the line and it has dried you can bring up the gloss by applying some paste was or brushing on some lacquer or other type of varnish.
One other note. I recently had a client who had some cabinets with doors that were made in China. Most of the panels had shrunk by 3/8" to ½" and many had developed severe cracking. They were worse than anything I had ever seen. The cause of this turned out to be that they were shipped by boat in a container from China. These containers are huge steel boxes and during their 2-3 week journey the temperature can reach 150 degrees causing them to dry and shrink excessively. Fortunately most doors are still made in the USA and it is not likely that Asian manufacturers will corner this market for many practical reasons.
This
is very humbling. A little over two years ago I opened a website for my business, The Cabinet Guy, LLC, in order to promote my business. Since that time I've had over 10,000 visitors to my site, something I never expected (if 1,000 people had visited I would have been thankful). About 50% have been local searches in my immediate business area (Colorado front range - Denver to Colorado Springs). The other 50% have come from all over the world - New York, California, London, Moscow, Koala Lumpur, Xian, Christchurch, Paris, Bangkok, Delhi and many others.
I asked myself, "Why would people all over the world visit my site, let alone spend over 5 minutes looking through it?" It turns out, based on the statistics that my web host provides, most people were looking for pictures of kitchens which I understood completely. After all, if you are looking to change your kitchen seeing pictures is a huge help in making decisions. But what surprised and has humbled me is how many people read my pages titled
Cabinet Basics 101 
and
Kitchen Design Insight
. Apparently people from all over the world have the same questions that these two articles address.
Many clients have told me they appreciated my candor about this business and how to navigate it as a customer. Further, they were thankful for making them able to be smarter consumers. One client recently said, "You really should start a blog." I had been thinking of doing so and her suggestion gave me the push I needed.
I have always maintained that my job when working with a client is not to sell them anything. Rather, it is my job to give them enough information to make decisions
that work for them. I will attempt in this blog to provide information and insight to that end for anyone in the entire world who is interested. In my over 35 years in the cabinet business I have seen and learned a lot of things. In these blog articles I will deal with different topics. If there is a particular topic you would like me to cover or you have a specific question please feel free to let me know and I will respond as quickly as possible.
Thanks for visiting my site. Kitchens and custom cabinets are my passion. It is a privilege to share a little of what I have learned with anyone who is willing to listen!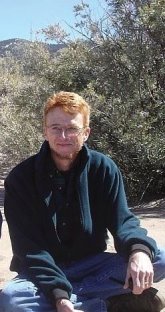 -Geoff Dunn

 

 

 

 

 

 

 

 

 

 

 

 

 

 

 

 

 

 

0

/