Shopping Cart
Your Cart is Empty
There was an error with PayPal
Click here to try again
Thank you for your business!
You should be receiving an order confirmation from Paypal shortly.
Exit Shopping Cart
I often have clients who ask what kind of range hood should they get for their home. Here's some general guidelines regarding residential kitchens (completely different rules apply to commercial kitchens and I do not address them here (there - now my lawyers are happy). 
What does a metal range hood do for me?
1) They provide a metal fire shield between the stove and the cabinetry 
2) They provide a light directly over the cooking surface
3) If vented properly and are of sufficient power they can readily collect cooking grease from the air and expel odors from the house thus making your house smell better and keeping the grease from landing on the cabinets, floor, and counters
4) They can remove excess heat from the kitchen
5) If done well can add stunning visual impact to your kitchen
I once read a study that said the average consumer produces 8 to 12 pounds (yes, I said pounds) of grease that is vaporized at the stove. This grease, if not collected with a ventilator, floats up and out through the house. It lands on your cabinets (that's what that crud is on the doors), lays on the countertop, and worst of all, falls to the floor where it is tracked throughout your home (carpets included). Good argument for a good hood.
Do building codes require that I have a range hood? 
Mostly no. A range hood is not generally required above a stove or cooktop by most residential codes that I am aware of. However, you should check your local codes. Also, many of the professional style residential gas stoves (and others) do require ventilation due to the intense amount of heat. Check with the manufacturer for more details.
How close to the cooking surface should the hood be? 
The primary concern of the building code is fire hazards since a large portion of kitchen fires start at the stove and migrate to the cabinets above them. This is why codes require that any flammable material must be at least 30" above a cooking surface. With electric cooktops (i.e. ones that don't have an actual flame) any combustible material to the side of the cooktop must be in line with the side of the cooktop. As an example, a 30" wide cooktop can have a 30" wide cabinet 30" above it (see picture).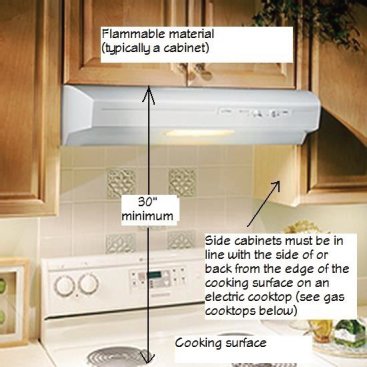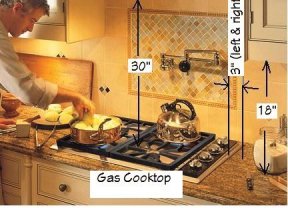 For gas cooking surfaces the 30" clearance noted above applies in most cases. The side clearances do change, though: generally any flammable material must be at least 3" to the side of the cooktop and 18" above it. So, if you have a 30" gas cooktop you need a 36" wide space above it. Again, this may vary and you should check your local codes and the appliance manual. 
What should I consider when choosing a hood?
The primary question is what you want your hood to do. If you cook a lot and want to collect the air-borne grease and remove cooking odors then you should get a hood that vents externally (to the outside). If you don't cook a lot and removing odor is not a big deal but you want fire safety then a hood shell with a light is sufficient (in most cases). 
What's the best type of hood?
The best type is one that is ventilated to the outdoors and is an updraft vent. "Updraft" means the hood is above the cooktop and vents upward as opposed to the downdraft type (typical in Jenn-Air appliances). These must vent to the outdoors (preferably not onto a deck or other area where people gather!). DO NOT EVER vent into an attic. That's just a fire waiting to happen. 
Here's some general guidelines:
> Buy the best hood your budget will allow. A good quality hood can be a delight to have. A cheap one is generally a waste of money.
> Get the highest CFM rating you can afford - the more CFM the better (see next question).
> Good lighting (more than just 1- 40 watt bulb
> Variable speed so you can set the fan to run at a speed consistent with what you are cooking
> Squirrel cage blowers (as opposed to paddle fans) which give higher CFM and are quieter
> The quieter the better
> Ease of cleaning
> An exterior fan - this unit has the fan at the end of the ducting (i.e. not in the hood itself) and is the quietest and most powerful (commercial units are designed this way) but they are generally the most expensive choice. 
What is a "CFM" and why do I care about it?
CFM stands for "cubic feet per minute" and it is a measure of how many cubic feet of air the fan can move in a minute. The minimum CFM for a cooktop is 100 CFM per lineal foot of cooking surface (side-to-side). For example, if you have a 30" cooktop (2.5 feet) then need a 250 CFM cooktop (2.5' X 100 = 250 CFM). This, however, is only the minimum and if you want the hood to work well I recommend you get at least 150 CFM per lineal foot or more.
These are often referred to as Jenn-Air's but there are many companies that make downdraft ventilators. While not ineffective these are often under-powered and too noisy so most people buy them and seldom, if ever, use them. Remember, heat rises, and it takes a lot of CFM to counteract the upward velocity of heat, steam and grease. Whenever feasible go with an updraft ventilator but if down draft is your only option then consider the "pop-up" type that mount at the back of the cooking surface and raise up 8" or so. At least these are above the cooking surface and make the air move sideways. My clients through the years have consistently disliked (some hated) their downdraft ventilators but many find the pop-ups work fine for them. 
What about re-circulating range hoods?
Simply put, a total waste of time if you want to remove odors from the house. The charcoal filter generally clogs with grease within 30 days of installation and stops filtering odors (which it doesn't do well with anyway). The only good things that re-circulation hoods do is provide the metal fire shield, collect some grease and give you a light on the stove. Outside of that you're just wasting electricity when you turn it on. 
Are over-the-stove microwave hoods good?
The rules listed above apply to these also. If you are using an over-the-stove microwave hood vent it outside. The recirculating type is useless (see question above). The primary problem with microwave hoods is that they don't extend out far enough from the wall to capture the bulk of the cooking output. Hoods are recommended to be 20" deep (i.e. the distance from the back wall to the front) and most of these units are only 15" deep.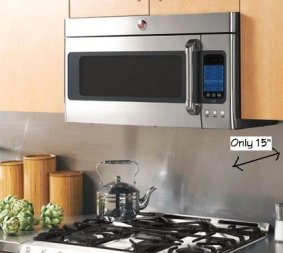 When should I use my hood?

Turn the hood on when you first start cooking using the lowest setting and then adjust it as the output increases.  This creates an airflow that will carry away 80-90% of the odor, grease and heat. Don't wait until the food is burning! Remember, once the air gets past the hood the ventilator will not suck it back down. 




For a more detailed discussion of hood requirements and recommendations based on building codes click

 here. 




If you have any questions or I can be of help in any way do not hesitate to contact me at

[email protected]

,net







0

/