Shopping Cart
Your Cart is Empty
There was an error with PayPal
Click here to try again
Thank you for your business!
You should be receiving an order confirmation from Paypal shortly.
Exit Shopping Cart
I recently had someone contact me with questions about painted cabinets. I have copied over my response to them below and I hope it is useful to others. A little background first, though. 
Painted solid color cabinetry is very popular now. To get a solid color you can either use paint or tinted varnish. What's the difference? In simple terms, any solid color finish is a combination of pigment (color) and solids content (which is the "armor" that protects the color and gives it a sheen). Industrial grade paint is composed of pigment and a high solids content and generally 2 coats are sprayed on with no need for a primer (it is "self-priming). Tinted varnish is mostly all pigment with a low solids content. It requires a solid color primer to seal the surface, then the tinted varnish is sprayed over that and finally 2 to 3 coats of clear varnish are sprayed over that. So, it is less labor intensive to use paint and therefore less expensive. However, the tinted varnish process is much more durable and 2-3 times as thick as a painted finish. You can compare it to the "clear-coat" finish that car companies use nowadays. At The Cabinet Guy LLC we use tinted varnishes which we can make in any color that you can get with paint. 
Paint or tinted varnish can be applied over any cabinet surface. Most manufacturers use hard maple but some use poplar or other "paint-grade" woods. Then there are others who use MDF - medium density fiberboard (in most cases that is what we use for our clients for solid color finishes). 
The question that was posed to me was "Is MDF a good product for cabinet doors compared to wood for a solid color finish?" Here is my response:
"To me using MDF instead of wood for a paint surface can be compared to using metal or wood for your car fenders. Wood would be more expensive than metal in that case but it wouldn't be a better product for the application. When people say that MDF is "cheap" it would be like saying that metal is cheap when compared to wood for fenders just because it is less expensive. But less expensive in cost does not necessarily mean cheap in quality. You would be disappointed in how the wood reacts in a car accident compared to the metal and, likewise, people are often disappointed by how painted wood cabinets perform over time. 
MDF is 50 pound density compared to about 20 pounds for hard maple and 15 pounds for poplar. That means the impact resistance of MDF to the rigors of daily use is much better than wood. Also, in my experience, a door made with MDF will last as long as a wood one and perform just as well. MDF does not shrink and swell with changes in humidity so the likelihood of cracks appearing at the joints is much less (which is very, very likely for wood). MDF is admittedly less expensive, about $1 per square foot for the raw material versus about $3 for hard maple. However, because it is a superior product for this specific application I would never call it cheap. 
It is true that once a varnish is applied over paint it would be more difficult to repaint but the varnish adds years to the durability because it acts like a coat of armor (just like it does over a stain) and you shouldn't need to repaint for a long time. However, if you buy unvarnished painted cabinets you will find that the results of painting over them aren't any better and you would need to repaint them much sooner. The aim is to get a product that holds up so you don't have to repaint. That being said, you will find it difficult to get a varnished solid color finish from most manufacturers since it is too expensive a process for most of them. If you want a varnished paint look you will probably need to find a cabinetmaker who knows how to spray tinted varnish (not paint) and overcoats them with varnish like we do in our shop. 
As to your question about the sheen level and how it relates to quality. Low sheen does not mean less paint or that it is a cheaper product. All finishes come in a variety of sheen levels. Sheen is measured as a percent of light reflectivity compared to a mirror. Low sheens have more pores so they capture more light rather than reflecting it. Dull or flat = 10-15% sheen, satin = 40-50%, semi-gloss = 60-70% and high-gloss = 80-90%. All sheen levels perform pretty much equally. It is simply a matter of aesthetics although high gloss paints tend to clean up easier because they are smoother since they have less pores for dirt to catch in. 
I hope all of this proves helpful. In closing, let me say that six months from now when you are enjoying your new kitchen all of the headaches will be a dim memory so keep your eye on the goal, not the task. :)
We do a lot of repair of the finish on cabinet doors in our shop for our clients. Very often people complain that the finish seems to have disappeared in places on the false drawer front and doors under the sink while not having done so elsewhere (except above the stove which I will deal with in another blog). There are places on these doors where the finish is worn, dull and/or blistered. What causes this? Most often it is due to water that has spilled on the door or transferred from our wet hands when we open the doors.
This exposes a consistent weakness in the finishing process of many manufacturers. While most companies use very high quality varnishes or lacquers the problem is they do not apply a thick enough coat to protect the wood. In most cases, the manufacturer's spray on only two coats which results in a minimal buildup of only 3 mils whereas 5-6 mils is recommended and can only be achieved with 3 or more coats of varnish or lacquer. So, there is not enough finish on the door especially on the end grain and at the joints between the frame and panel of the wood.
In the case of the end grain, which is the grain at the top of the door (see picture below), the open pores of the wood are not filled with enough finish to keep water from getting inside the wood. Once the water enters the unfinished wood below the surface evaporation causes it to condense under the finish (much like water collects on a skylight or greenhouse roof) and then blisters the finish exposing the now-raw surface wood to more damage.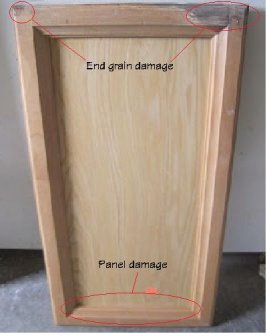 Likewise, water tends to collect where the center panel meets the frame at the bottom of the door (see picture below) and is drawn by capillary action into the groove of the frame where it then is absorbed by the raw wood panel and causes the same damage as the end grain situation.  




Solutions:

1) Pay particular care to avoid getting these parts wet and if they do get wet dry them off immediately.




2) If your cabinets are new and you don't see any damage yet you can either use paste wax or spray lacquer or varnish to add the coats that the factory failed to put on there.

     a. Wax is the simplest but needs to be re-done every 6 months or more depending on how hard you are on your          cabinets. Be sure to use paste wax (Johnson's floor wax, Minwax, Trewax, etc), not liquid wax, lemon oils or          sprays like Pledge. Paste wax is the most durable of the easy to apply protectors.










     b. Spray varnishes or lacquer are more durable and long lasting but require more work. If you choose to do this            you must do it outside in an open area for safety and follow the finish manufacturer's directions. Before                  spraying the whole door test a small area on the back of the door to be sure the finish will adhere to the old f          finish. Apply 2 or 3 coats with special attention to the end grain and the joints where the panel meets the                frame. Sand between coats with 320 or 400 grit wet (black) sandpaper. If you are spraying the false drawer              front be sure to coat the back which is usually left unfinished by many manufacturers.




3) If your cabinets are old and damaged you will need to use a spray finish as in 2b to restore the finish (paste wax will not do the job in this case). In this case, first wash the door using an extra fine 3M pad and mineral spirits (paint thinner) to remove any traces of food residue, grease, etc. Allow the door to dry completely and then lightly sand the whole door with the 320 or 400 grit paper. If the door is discolored you can attempt to apply some stain to the raw spots but you are better off doing this after you spray one coat of finish on the door. (Usually the stain will not penetrate into the wood fibers due to presence of some finish in the pores). Use a fast drying stain such as Rustoleum Ultimate Wood Stain (which takes about an hour). If you use a stain like the typical Minwax oil base stains you will need to allow it to dry for about 24 hours before spraying on any additional coats of finish. Brush the stain on with a small brush and blend it into the surrounding area. About a week after applying a spray finish (to allow for curing) you can then use the paste wax as noted in 2A above.




4) Or, you can have us do this for you at our shop.




As always, if I can help you with this or other cabinet problems do not hesitate to email me. 




0

/