Shopping Cart
Your Cart is Empty
There was an error with PayPal
Click here to try again
Thank you for your business!
You should be receiving an order confirmation from Paypal shortly.
Exit Shopping Cart
| | |
| --- | --- |
| Posted on April 23, 2013 at 12:46 PM | |
L-shaped corners of kitchens have always presented a design challenge for the designers and cabinet makers have come up with many designs, some innovative and practical and others not-so-good. Below I show the most common design answers to this problem and I have ranked them by practicality and function based on my experience and customer input.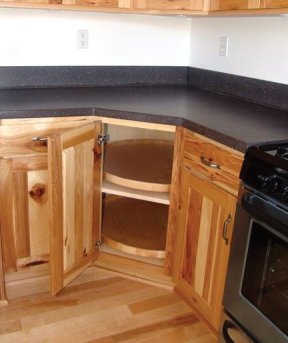 #1 DIAGONAL LAZY SUSAN - My all time favorite! This type provides the maximum in storage space and functionality. Unlike the L shaped ("Pac-Man") lazy susan (see #2 & 3 below) the shelves in this cabinet go almost all the way back to the wall and are typically 30" to 32" in diameter and make the best use of the corner. Compared to the Pac-Man type which are 24" in diameter you get a full circle  and increase the storage space by over 57%
per shelf
! And this cabinet has the same 36" x 36" footprint as the Pac-Man type so you gain much needed storage space without using anymore square footage.
The one to the left is the type we build. Rather than using the pole mounted plastic shelves which are flimsy (shown below), we make a 3/4" thick round shelf attached to a 12" steel ball bearing carousel rated to hold over 500#. This is then attached to a solid 3/4" shelf. 
Another advantage is that rather than the square corner countertop you get an additional 18" of usable counter space.
Also, unlike the Pac-Man type the door is easy to open.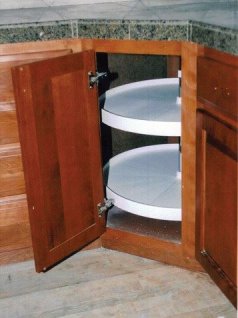 We almost always do this cabinet in our kitchens with corners and our clients love them. Many people have said that the shelves are so big it takes forever to get back to the beginning once you start it turning!

#2 L-SHAPED PAC-MAN LAZY SUSAN WITH L-SHAPED DOOR - This is the most common cabinet sold in the cabinet industry and many people are familiar with the benefits
and drawbacks.
 While this is better than no cabinet at all it pales in comparison to the diagonal type above. The biggest problem with these is 1) you loose over 50% of the storage capacity because the 24" diameter leaves a 12" dead space around the back of the cabinet, 2)they are wobbly, 3) seldom stay correctly aligned, 4) are a pain to adjust and 5) people get their fingers jammed in them (ouch!).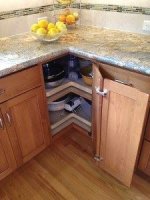 #3 L-SHAPED PAC-MAN LAZY SUSAN WITH BI-FOLD DOOR - I see these a lot more nowadays and they are an attempt to answer the problems of #2. However, every solution carries the seeds of its own problems and this one is no exception. While the access seems easier my clients tell me the bi-fold door is a pain-in-the-neck to open and often gets broken (we have repaired many of these - made by other companies - at our shop through the years). . Further, since the door does not support the shelves like it does in #2 the shelves are weaker. While this one does have larger diameter shelves, typically 28", they still don't match up with the space you gain in #1.
#4 HALF-MOON SHAPED BLIND CORNER - While this is better than a standard "blind corner" cabinet (see #6) since the storage comes out to you, I would still recommend a lazy susan cabinet unless there is insufficient wall space for it. The one pictured here could have had a lazy susan but perhaps the client wanted the bigger cabinet to the right and chose this over the lazy susan.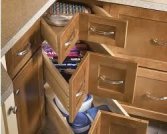 #5 DRAWER CORNER - I certainly give the designer of this an A for innovation however, I can see very few places where this would be preferred over #1 except perhaps a kitchen with no other place for drawers. It provides about 6-1/2 square feet of storage space similar to #2 & 3. While this packs a lot of WOW factor when people see them in the showroom the honeymoon is soon over when they start dealing with the drawers getting out of alignment and that weird V-shape at the front where stuff loves to hide. And insult is added to injury when they think about the fact that this cabinet costs $700-$1,000 more than any of the lazy susan cabinets. "I could have had a V-8!"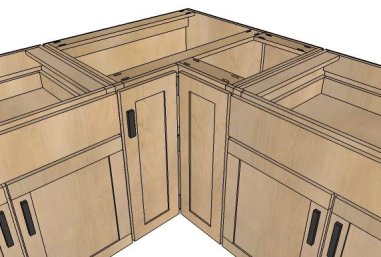 #6 BLIND CORNER CABINET - Most people have seen and/or had these and remember how much stuff disappears in there (someone said that when they tore theirs out they found all their missing left socks!). These are great if you have a head lamp on and can twist like a pretzel to get inside them. Outside of that, I guess they beat having no cabinet at all. 




These are the primary ideas I have seen and used through the years. I'm sure there are others I have not seen (or left out because they are similar to these). If you have a seen other unique answers please let me know. Oh, and if anybody knows how "lazy susans" got their name let me know. I have researched this in vain but would love to know. As always, if you have a question do not hesitate to email me. 

Categories: Kitchen design

0

/